***CANCELLED BECAUSE OF THE CORONA SITUATION***

July 22 - 26, 2020, Vejle, Denmark
MEDICINE DANCE
with Jonathan Horan (USA)

This is a 5Rhythms® workshop for both advanced and beginning students. The 5Rhythms are a contemporary medicine wheel and Medicine Dance is a journey through the primary maps of the wheel -- Waves, Heartbeat and Cycles -- nourishing the warrior-healer that is alive in each of us. Dancing for oneself, for each other, for our families, and for our communities is powerful medicine, a way to create a loving ripple effect in this world.

We each possess a fierce wisdom that only comes from within. To practice getting out of its way, getting into our groove and stripping away the things that are blocking its blossoming is our medicine. Taking refuge from the world of doing to truly connect with our deepest self, to hook up to the divine force that moves all things and become deeply rooted in the mysterious workings of our inner worlds, is holy work that feeds the soul.

In the training process, this workshop will count as two days of Waves, one day of Heartbeat, and one day of Cycles.


Recommended reading: Roth. Maps to Ecstasy and Sweat Your Prayers.
---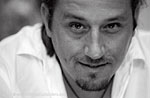 Jonathan Horan
Jonathan is Gabrielle Roth's son and closest collaborator.
He has been immersed in the 5Rhythms® throughout his life and continues to be a key catalyst in its evolution.

From the mountains and oceans of Big Sur to the skyscrapers and theatres of NYC, I grew up in extremes and learned a deep respect for the wilderness that is both nature and human nature. When I was nine, I participated in my first 5Rhythms workshop — my grandfather was dying, my mom was very fragile and I was worried about her so I hung around. I fell in love with the work, the rhythms, the people, the freedom and the discipline. By seventeen, I had dropped in fully and I have done almost every workshop Gabrielle has taught in the last twenty-five years. I followed in her dancing footsteps as student and teacher and am committed to keeping the fire of her core teachings alive.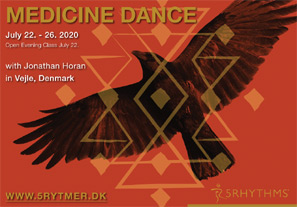 www.facebook.com/events/132942824528299/

***CANCELLED BECAUSE OF THE CORONA SITUATION***

Times / schedules:
Medicine Dance July 22 - 26, 2020

Wednesday:, Open evening* 6.30 pm - 9.30 pm
Thursday: 11.00 am - 6.00 pm
Friday: 11.00 am - 6.00 pm
Saturday: 11.00 am - 6.00 pm
Sunday: 11.00 am - 3 pm

*Wednesday open evening class is part of the workshop but open for others who can only participate this evening.

Teacher: Jonathan Horan (USA)

Level:
The workshop counts as Medicine Dance for the Gabrielle Roth Teacher's Training

Venue:
Campus Vejle, Boulevarden 48, 7100 Vejle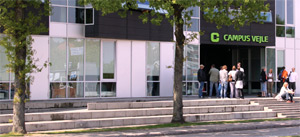 Find it on Google maps here...
PARKING
You can park for free all days at Campus and on the other side of the street.
---
Buy food lunch break

There is a small supermarket beside venue and The pedestrian zone is 5 - 10 minutes walk from the venue... How to walk...

Many chose to spend time in the park between venue and pedestrian zone... Se where
---
Information about Vejle
http://www.visitvejle.com/ln-int/denmark/vejle-tourist
---
Price / Payment:

Price incl open evening class
Workshop 2800 Dkr if payed before June 22 nd. 3200 Dkr. thereafter

Open evening alone 300 Dkr.

We offer a 15 % discount of the full price for 5RTA members (Trained 5R-teachers)
---
Prerequisites:

Medicine Dance: 12 hours of Waves classes or 1 weekend Waves workshop with a 5RTA member teacher.

All workshop hours contribute to 5Rhythms® teachers training prerequisites (5 days).
---
How to book:
Please send an e-mail with your name, address, phonenumber and a list of 5Rhythms workshops you did to Jan Redsted and I will send you all the information you need!

Email: jan@redsted.dk Tel +45 29 62 29 76
---
Vejle city
The city itself has a population of a little more than 50.000 which means that everything in the town is in walking distance... se distances below from venue to Hotels, station etc.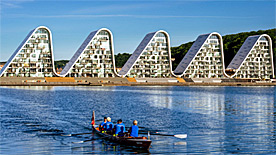 ---
Travel/Trains/Airports
Airports:



BillundAirport (35 min with bus to Vejle)

Buses (Billund - Vejle | Vejle - Billund)
Bus Sydtrafik Click here
Busses goes to TrafikCenter (15 min walk from venue: See rute here.... )

Copenhagen Airport
About 3 hours in train

Order Trainticket from Copenhagen here:
http://www.rejseplanen.dk/bin/query.exe/en

From: Copenhagen Airport
To: Vejle St.
Walking from Vejle train Station to Venue
---

Overnight Accommodation:
Own sleeping bag at the venue
The venue is open to let participants stay overnight for 50 Dkr. pr night. (little less than 7 Euro)
Can be payed during or before your stay.

Its very basic with classrooms where you would have to bring sleeping bag and something sleep on like a rolling pad or yogamatt.

Only Tea-kitchen to boil water, with no cooker or fridge but good showers and toilets.
Write to us if you are interested in this option. jan@redsted.dk
----------------
BB Hotel: This is a cheap solution if you share room with 1 or more people. Last years many were satisfied with this place and its only few min. walk from venue
http://www.bbhotels.dk/ (700 M) See on Maps
We heard of these 2 BB in Vejle center
1. www.casa-mundo-bb.com
30 min walk from venue see: google.dk/maps

2.This is a little closer: www.siesta-vejle.dk
15 min walk see : google.dk/maps
--------------------------------------------------

Hotels few meters from venue
1. www.scandichotels.com (600 M) See on Maps

2. BestWestern (1100 M) See on Maps
3. Vejle Center Hotel (750 M) See on Maps
4. CABINN Vejle (1200 M) See on Maps
--------------------------------------------------
AirBnB Vejle www.airbnb.dk/s/Vejle
Hostel (5 KM from venue)
http://www.vejle-danhostel.dk/index_eng.html
Appartments in Vejle
Click here...
Private BB in & close to Vejle
http://www.visitvejle.dk/vejle/bed-and-breakfast
Rent a Summerhouse (Car needed)
5 to 20 KM from venue
See more here...
Camping
www.vejlecitycamping.dk (2.8 km from venue)

If you have a car:

faarup-soe.dk-camp.dk 12 km

www.vejlefjordcamping.dk 15 KM from venue

www.hagenstrandcamping.dk 19 KM from venue

www.morkholt.dk 18 km from venue
---

RENT car
:
www.europcar.dk

RENT Bicycle
:
visitvejle.com
---